Fifty years ago our parents got on average 1.5 to 2 hours a night more sleep than we do now. I might not be the best person to bring this up though. I normally, Monday to Thursday, get about 6 to 6 1/2 hours, by Thursday morning I'm like the walking dead. I get up early to get my son's breakfast ready before school. I obviously need more sleep.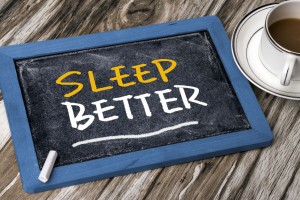 Most healthy adults need between 7 to 9 hours of sleep per night to function at their best and I need a around 8 to feel good. So at best in the first 4 days of the week I'm 6 to 8 hours sleep deprived. I have the advantage that I can have a cat nap in the afternoon but that only lasts for a short time so, I'm still sleep deprived.  Friday to Sunday I can sleep in and get maybe 9 hours but even then the tank isn't full, it's more like 1/3 empty.
It's easy to take a good nights sleep for granted, and often we sacrifice it. How many times do we put off going to bed to watch the latest news or finish that movie; that all makes you sleep deprived.
We wanted to pass along the top reasons why you should get the best possible sleep you can, especially as we age.
Getting six hours of sleep or less for long periods of time can increase by 48% the chance of developing or dying from coronary heart disease or increase your risk up to 15% dying from a stroke.
While you sleep, your brain is hard at work repairing your body which helps you remember, learn and feel better. Lack of sleep can cause slowed reaction time and cause more work-related errors. Getting an appropriate amount of sleep can help you learn new tasks, make good decisions, and be more creative.
When deprived of sleep, your body produces the hormone Ghrelin. Ghrelin sends hunger signals to your brain, making you think you need food and also suppresses the hormone Leptin which signals your brain you're full. This can lead to a higher risk for obesity.
Fostering the healthy habit of regular sleep can pay off with dividends in nearly all areas of your life.  Making regular appointments with Lanna Thai Massage can be an effective, natural way to improve sleep. Massage, Meditation and Sound therapy all increase relaxation, promote the release of sleep-inducing hormones to help your body to feel better.  Good relaxing massages may be just what you need to live a more rested and healthy lifestyle.